Tony Bellew says his WBC cruiserweight title bout with Congolese fighter Ilunga Makabu at Goodison Park will see two of his dreams come true at once.
Lifelong Evertonian Bellew 'fought' at Goodison during filming for the movie Creed and the 33-year-old now has the chance to turn his dreams into a reality when he takes on Makabu for the vacant WBC strap.
His world title challenge takes place on his son's eighth birthday on May 29, live on
Sky Sports
, and Bellew cannot wait to fight in front of Goodison's famous Gwladys Street End.
"This fight has come through pestering people, but ultimately the chairman [of Everton Bill Kenwright] believed in me, the Mayor Joe Anderson is behind me and Sky Sports and Eddie Hearn believed in me," Bellew told
Sky Sports News HQ.
"It's been a long road. There have been a couple of parts in movies in between and a couple of big fights and ultimately it has all led to Goodison Park.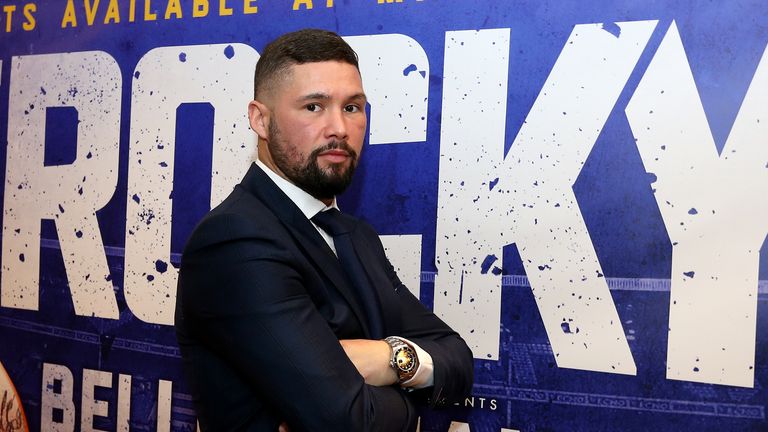 The Liverpool cruiserweight previously filmed scenes for the Creed movie at Goodison
"The dream has already been achieved. I am fighting at Goodison Park and the world title is just the icing on the cake. I have been coming to this place since I was a baby and my season ticket was in front of the Gwladys Street end, which is where I am going to fight in front of.
"I've been going to Everton for as long as I have been able to walk so now fighting at Goodsion Park is the dream upon the dream come true. It's like two big dreams coming true all at once."
Bellew has twice unsuccessfully fought for the world light-heavyweight title, losing to Nathan Cleverly in 2011 and Adonis Stevenson in 2013.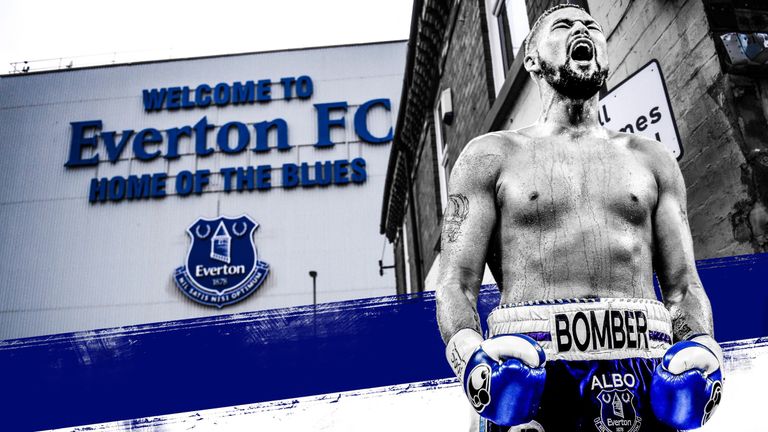 Bellew is primed for the toughest test of his career
The Bomber is convinced that now is his time but the European champion acknowledges he is coming up against his most dangerous opponent to date.
"This is the most dangerous fight of my career without a shadow of a doubt," he said.
"I just think Ilunga Makabu is a very good fighter, a world-class fighter, who is very strong, very dangerous and tactically aware, with a good defence.
"He doesn't have any major flaws. The only major flaw I would say he has and one that I am looking to exploit is he can be lazy in patches and that is one thing I never am in fights, so I'm going to have to exploit that flaw and punish it immediately from the word go.
"I don't think it can be a boring fight. It's a clash between southpaw and orthodox.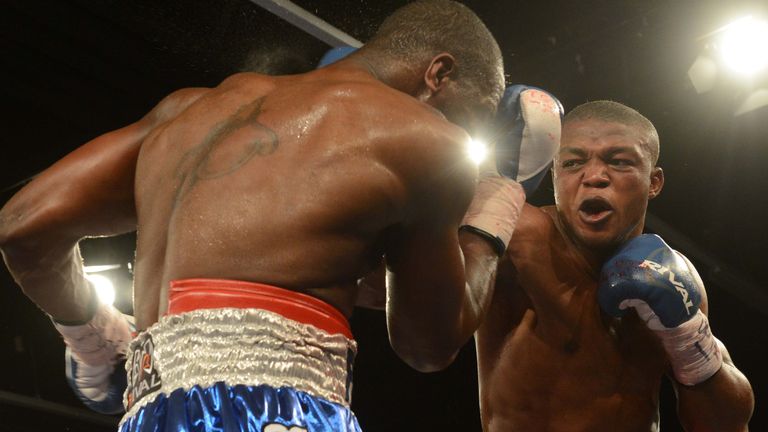 18 of Ilunga Makabu's 19 wins have come inside the distance
"It can't be boring because he walks forward, he comes forward behind a good strong defence, he throws punches, he's dangerous with the left uppercut and he goes to the body quite well.
"So I'm going to have to nail him to keep him off. I'm going to have to keep him at range, use my skills and use my feet, and I believe when I keep landing I will break him down and I will stop him.
"The last thing Ilunga Makabu is going to expect is power and speed and they're two things I carry as a cruiserweight, so on May 29 I become WBC champion of the world." [h=2][/h]